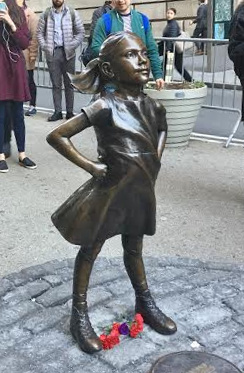 DAN R. writes:
To the strains of Helen Reddy ("I am Woman"), score one for girl power! And with Mayor Bill DeBlasio's decision to allow the "fearless girl" statue to stand at least until next year, let's score one for commie power. The bull, described by its Italian-born sculptor as a symbol of prosperity and strength, has stood on Wall Street since 1989. Who but a commie would want to demean such a symbol? Why, feminists of course, who are only too happy if it can play a part in raising the numbers of women on Wall Street to the magical level of 50%. Apart from the "fearless girl" statue being worthy of a character in a comic book, it's a parasitic work that owes everything to its placement in front of the bull, stated proudly and openly by a professor at the School of Visual Arts in New York. "The girl has changed the meaning of the bull forever," said the professor, David Levi Strauss. The sculptor of the bull certainly recognizes this and is planning to sue the company that commissioned the work.
So she's facing a bull for the opportunity to work on Wall Street?
Poor little girl.
— Comments —
Paul C. writes:
The child will be removed next year.
Gosh her little presence illustrates how wrong liberals are.  It is intended to show women are strong but shows women and men are weak.  As one stares at this beautiful sculpture of the bull, one realizes how mindless and powerful the bull is.  The bull's artist was clever indeed.  The market is mindless and powerful beyond human control.  Unpredictable.  The market tramples regardless of gender.